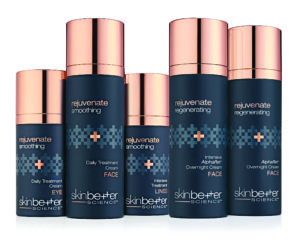 We are happy to welcome to our office SkinBetter Science!
We are proud to announce that we are now carrying SkinBetter Science – a clinical skin care line that utilizes cutting edge technology to deliver effective, visible results! SkinBetter's breakthrough innovation behind their products delivers results that exceed expectations!
The skinbetter science team of aesthetic experts developed Restylane® and Dysport®. They have a profound understanding of skin aging and what it takes to help defy the effects of time. A comprehensive approach to age management requires more than aesthetic procedures – it is a commitment to blending procedures, skincare and a healthy lifestyle.
Tapping into their rich dermatological heritage, the team at skinbetter science set out to create a new paradigm in clinical skincare. Cutting edge science is the principle driving force behind their unique formulations. The Research and Development team seeks out breakthrough innovation from all corners of the world to deliver the clinical efficacy essential to visible skin rejuvenation, with safety as a top priority, to create a brand that inspires trust.
Visible results are delivered through products that exceed expectations. SkinBetter's formulas not only deliver measurable benefits, but they also treat you to a sumptuous and pampering sensorial experience. The science inside each bottle is developed with a single goal: to deliver radiant, youthful skin that reflects the beauty of science.
Come see one of our knowledgeable aestheticians to learn about this amazing line!