The solution for healthy, vibrant, rejuvenated skin!
Diamond Glow is an advanced skin-resurfacing treatment that combines exfoliation, extraction, and infusion of condition-specific serums to improve skin health, function and appearance.
A patented, non-invasive treatment, Diamond Glow is fully customizable and the perfect solution to address a wide variety of skin concerns and conditions from head-to-toe and is suitable for all skin types and tones.
Seeking instant and long-term results? Get both with Diamond Glow! This multi-phase simultaneous treatment immediately initiates repair and recovery from hyperpigmentation, wrinkles, uneven texture, and roughness.
Diamond Glow doesn't stop working when the treatment ends. Fullness, smoothness, and radiance last for days. And, because the treatment stimulates renewal within the skins, improvement continues as new, healthy cells rise to the surface and minimize previous concerns.
Just 1 Diamond Glow treatment can transform skin*—but a series will deliver dramatic results. Talk to your skin care professional about a 6 to 8-week Diamond Glow series to speed clearing and rejuvenate, smooth, hydrate, and even skin tone.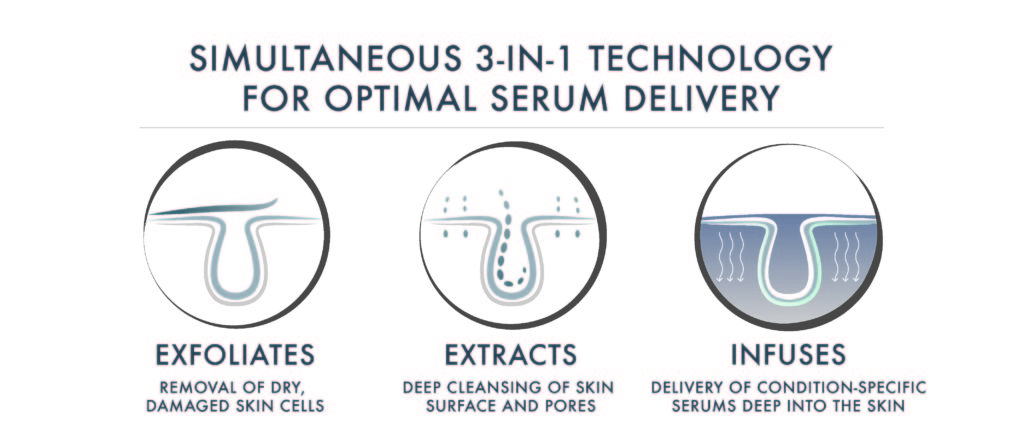 Precision-Timed Serum Delivery
Simultaneous Resurfacing and Serum Infusion at Skin's Peak Moment of Receptivity
Diamond Glow is powered by its patented handpiece, developed to deliver many precise skin benefits in one simultaneous action.
The pneumatic chamber at the handpiece tip creates closed-loop suction onto skin upon contact, instantly lifting skin for extraction and abrasion by a recessed exfoliating diamond tip. 
At the same time, pneumatic pressure infuses skin with ingredient-rich serums. This process is not sequential, but simultaneous, and is how Diamond Glow's technology eliminates time-gaps between exfoliation and serum application for optimal skin receptivity and retention.